Newsweek - How These Five Female Founders Are Turning Passion Projects Into Profits
March 15, 2023 | By KERRI ANNE RENZULLI - Senior Reporter - NEWSWEEK
Full article can be read here.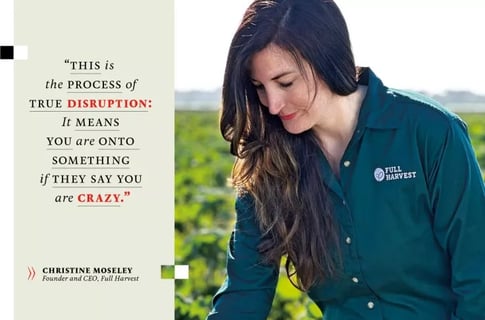 In addition to featuring our CEO, Christine Moseley, on the cover story, Newsweek also published a second story titled "How These Five Female Founders Are Turning Passion Projects into Profits" highlighting the success stories of female entrepreneurs who have turned their ideas into successful businesses.
Christine Moseley's story is particularly inspiring, as she has not only built a successful business but has also dedicated her work to improving the food industry's sustainability. Christine is the founder and CEO of Full Harvest, a company that helps farmers sell their imperfect and surplus produce to food and beverage companies. By doing so, Full Harvest helps reduce food waste, supports farmers, and promotes sustainability in the food industry.
The Newsweek article mentions that Christine's journey started when she was working in the food industry and noticed how much perfectly good produce was being discarded because of its appearance. She decided to do something about it and founded Full Harvest in 2015. Since then, the company has raised over $100 million in funding and has helped divert millions of pounds of produce from going to waste.
Christine's passion for sustainability and her dedication to her work have not gone unnoticed. She has been recognized as a leader in the industry and has received numerous awards, including the Forbes 30 Under 30 in Social Entrepreneurship, the Goldman Sachs Builders and Innovators Summit, and the Global Green Award for Circular Economy.
In addition to featuring Christine's story, the Newsweek article also highlights how women entrepreneurs are creating new businesses in record numbers. According to the article, the number of women-owned businesses has increased by 58% in the past decade, and women entrepreneurs are starting new businesses at a rate of 1.5 times the national average.
The article also notes that despite the progress, women entrepreneurs still face significant challenges, including access to funding and resources. However, as more success stories like Christine's emerge, it is clear that women entrepreneurs are a force to be reckoned with, and their contributions to the business world are invaluable.
At Full Harvest, we are proud to have Christine Moseley as our CEO and to be a part of the movement towards a more sustainable future. Her dedication to her work and her passion for sustainability are an inspiration to us all, and we are excited to see what the future holds for Full Harvest and for women entrepreneurs everywhere.