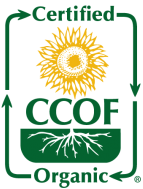 What exactly does Certified Organic mean? "Organic standards address many factors: soil quality, animal raising, pest and weed control, and use of input materials. Materials approved for and prohibited from organic production can be found on the National List." Most people don't know that Certified Organic also means that it is non-GMO.
Before CCOF (California Certified Organic Farmers), the integrity of consumer products and produce had not been challenged. CCOF was founded in California over 40 years ago on the belief to advance organic agriculture for a healthier world. CCOF is supported by an organic family of farmers, ranchers, processors, retailers, consumers, and policymakers. This agency is recognized nationally and internationally.
Like CCOF, Full Harvest is dedicated to helping healthier products become the norm. While we sell both conventional and organic produce, our CCOF certification means that all of our organic produce is certified and that we are committed to the organic movement.
You can be further assured of our transparent, certified produce supply chain.